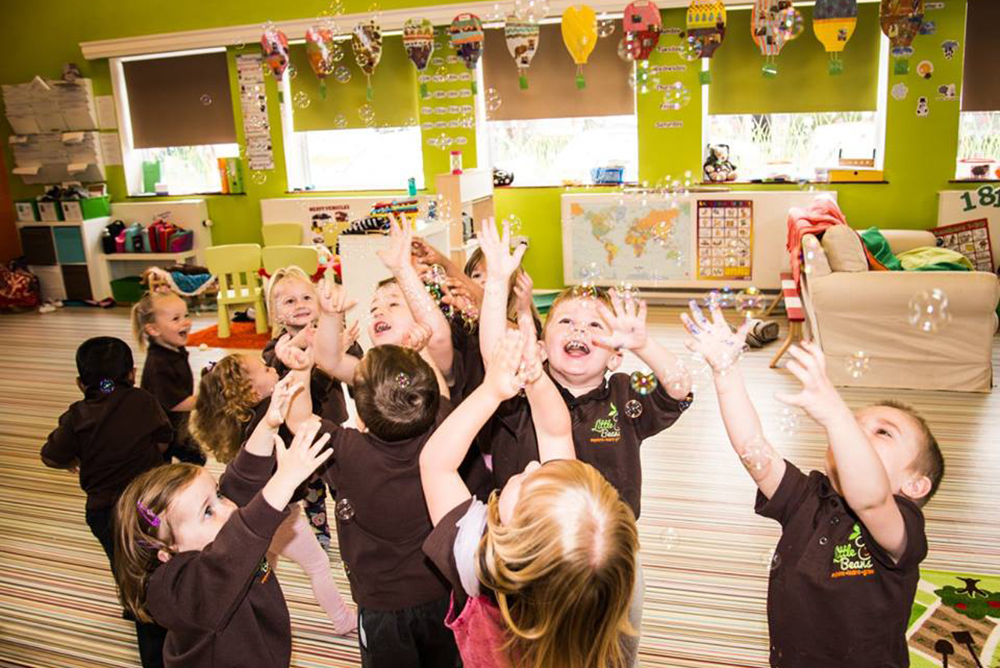 Little Beans Garland was designed with a specific vision by the two owners with learning and the environment at the very heart of their project - Little Beans Garland. Every inch designed and set out to maximise free flow and play opportunities for all our Little Beans.
Little Beans Garland is situated in a purpose built building that offers a large, spacious room with high ceilings that has been transformed in true Little Beans style to promote high quality learning opportunities in line with the Early Years Foundation Stage. Little Beans Garland is an inspiring environment with a clever combination of spaces interconnected and offering the very best resources,  role play areas, a library, arts and crafts, messy play, sensory play, relaxation, dance/yoga area, maths corner and plenty of floor space for day to day activities allowing our little beans to explore learn and grow. This great space is all covered with our vibrant, signature candy-striped flooring that is fun for little beans hygienic and gentle on their feet and hands during play and crawling.
A large section of our open space is given exclusively to our baby beans who can share the fun and action of the larger beans whilst enjoying their own age specific activities and focus within their area. Our baby beans have their own sleep room which contains 9 cots with designated blankets and cot sheets and is a calm tranquil area for baby sleep times. We can accommodate up to 9 babies only in this area and in this way our babies enjoy individual care and attention. We then have space for up to 49 little beans aged 2 -5 years old. We also offer wrap around care for Longfleet School providing a breakfast club and drop to school and then a pick up and tea/play time after school.
We are extremely fortunate to have a large commercial kitchen where we have our very own Little Beans cook, Claire, who cooks hot meals and snacks for both our Little Beans' sites. The nursery is filled with the aroma of home cooked cuisine and our Little Beans can watch their food being prepared and cooked all day long as well as take part in weekly cooking lessons.
At Garland Road, our babies and older beans spend mealtimes sat all together; enjoying, sharing, socialising and learning with one another during this vital part of the daily routine. Mealtimes are an extremely important part of our Little Beans routine and being a great opportunity to extend communication and language skills with our team. Just as much as family mealtimes at home are important, we can easily see the benefits of regular mealtimes spent with their friends both on a social and emotional development levels as well as improving fine motor skills. Our Little Beans team are on hand to help and support the Little Beans to develop these skills and to help our Little Beans to grow more independent.
Our outdoor area has a separate space for babies which is laid with artificial grass to allow babies to crawl and explore age specific play equipment all year round. They have their own access gate too for drop off and pick-ups to make this time easier for our parents. The older Little Beans also have a great outdoor space that is laid with artificial grass and which is well equipped within a secure fenced area surrounding the nursery. We have the very best resources inside and out that enables us to have an extensive range of continuous provision covering all areas of the curriculum in a fun bright environment. We use free flow daily all year round. 
We do breakfast and after school clubs for St Mary's and Longfleet Primary School every day!
All members of the team at Little Beans are committed to undertaking ongoing development and training. We regularly attend courses to keep improving and hold regular team meetings to share information and provide feedback on any courses that we attend.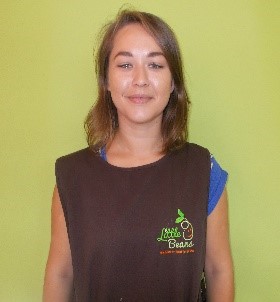 Emma - Manager 
"I am the Manager of Little Beans Garland, I have over 10 years experience working with children and families in a range of settings, from charities to academies and children centres. I have experience of being a SENCO and Safeguarding Officer and hold a Level 5 Foundation degree in Early Years.
I believe all children should have the same start in life and be able to flourish as individuals. At Little Beans we create an enabling environment with caring and skilled staff to ensure all children reach their full potential. My role as Manager is to ensure all children at Little Beans make progress through positive interactions and play based learning and activities, whilst ensuring all children are safe and building upon their personal, social and emotional development."
Qualification: Level 5 foundation degree in Early Years
---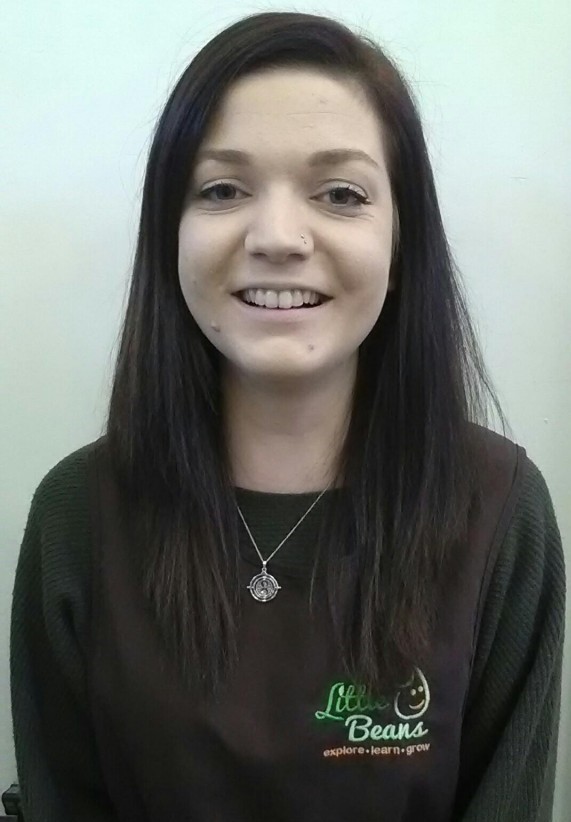 Amy- Deputy Manager & Pre-school Room Leader: 3 and 4's Room

"I am the deputy manager of Little Beans and my role is to support Emma in the day to day running of the nursery and to ensure all children are achieving the best possible outcomes. 
I have been working with children for a several years in both school and nursery environments. My passion is to do everything I can to support children to learn and develop in the ways they are most comfortable and provide opportunities for them to do this within play. I have worked with babies through to children aged in their early teens and I have completed an Early Years relevant degree - BA(Hons) in Early Childhood Education to enhance my knowledge. I pride myself in maintaining positive relationships with both children and parents and I am keen to get stuck in with messy play activities!"
Qualification: Level 6 in Early Years - BA degree in Early Childhood Studies
---
Georgia - Deputy Manager and SENCO (Level 3 Years)
"I am now Level 3 quaified and have been working for Little Beans for quite a few years now. I am very happy at Little Beans and I love coming to work and interacting with all the children and all staff members. I continue to develop lots of new skills whilst at Little Beans and strive to provide an exciting learning place for all Little Beans."
Qualifications: Level 3 in children's education - Early Years
---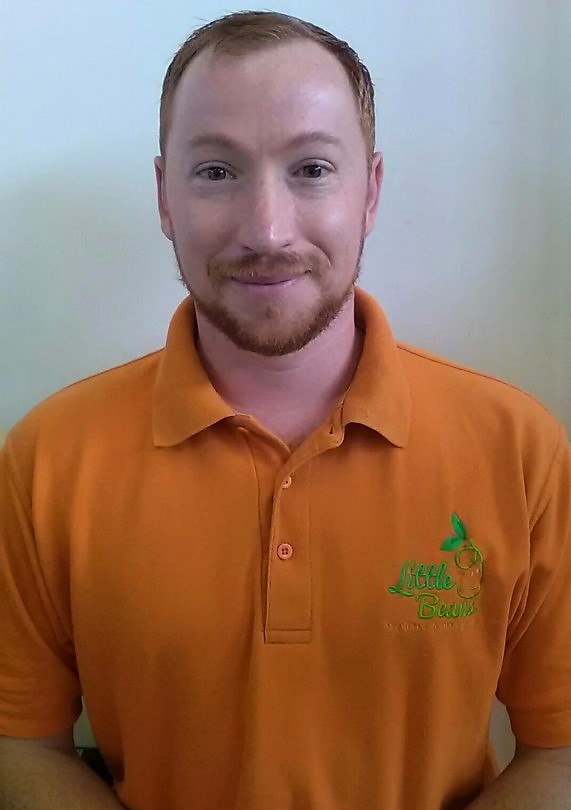 Samuel -
Preschool and 2's Room Practitioner (Level 3 Years)

"I have a passion for working with children, to share with them the joy that can be found in the world around us. I take pride in my high standard of work, encouraging and ensuring all children can grow and to give them a safe environment in which to do so. My experiences of working with children are diverse and vary greatly; from a one-to-one role, to working with larger groups of children with varying needs. Currently training on Senco. Level 3 safeguarding"
Qualification: NVQ Level 3 diploma in childcare
---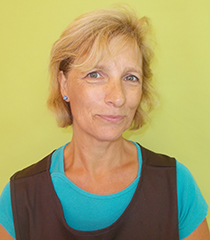 Maria  - Family worker - Level 3 child care Practitioner 
"Working from home as a childminder and foster carer, I have gained over 25 years in childcare. I have 5 children and 5 grandchildren to add to my experience and inspriration. I am passionate about children learning through play and their experiences through those especially important early years. My motto in life is "to inspire to be inspired"." I love being a part of Little Beans as where else can I play all day. I am looking forward to working with the Little Beans and their families knowing that every day I learn something new and go on imaginary adventures supporting the children to reach their full potential in an inspirational environment."
Qualifications: Level 3 in children's education & Level 3 Therapeutic Skills
---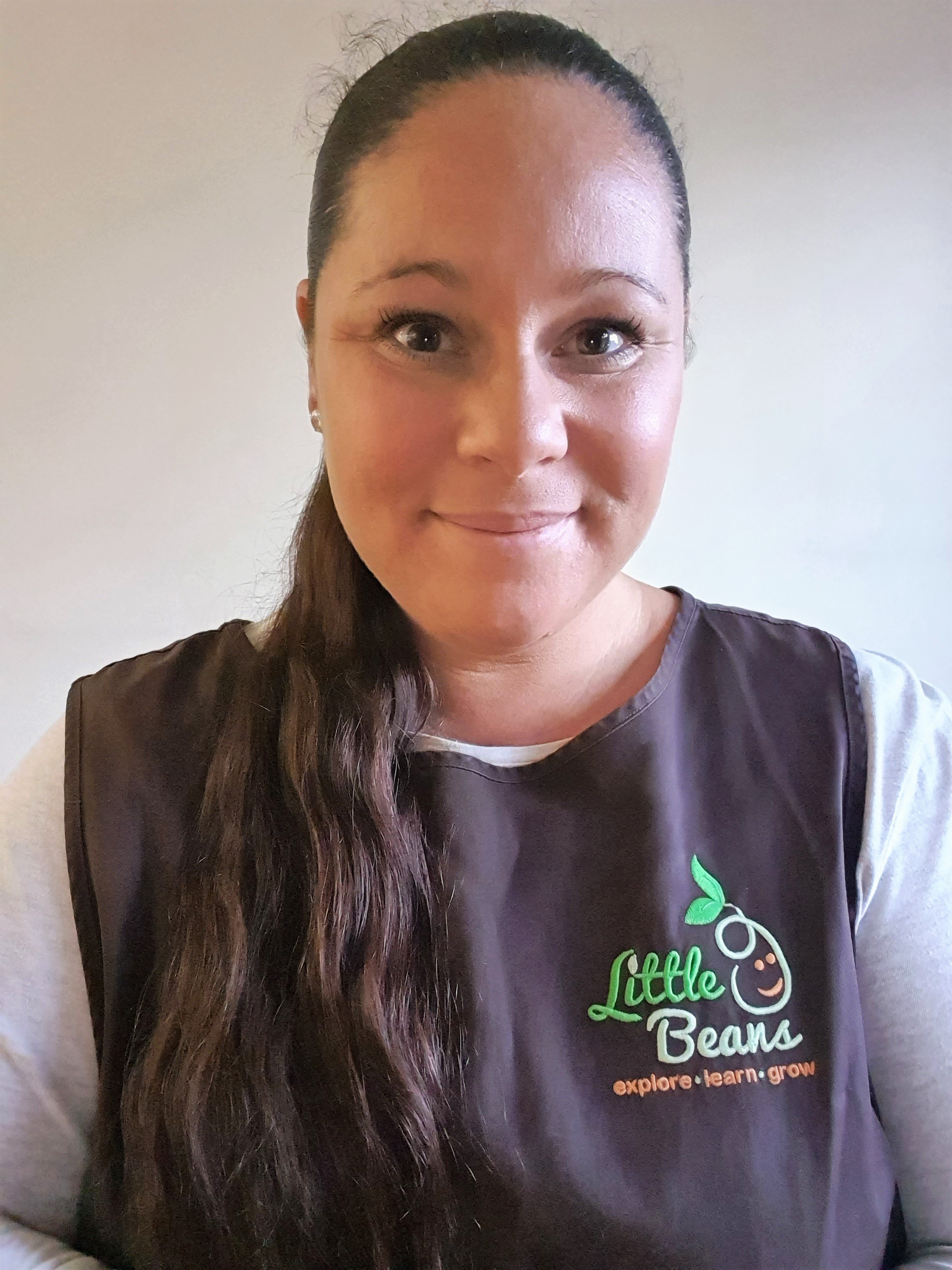 Sonya - Baby room leader - Level 3 - On Maternity Leave
"I have worked with children aged 0-5 years for over 15 years now, mostly in nurseries for long periods of time, but also abroad and including a little experience as an agency worker. I pride myself on fantastic relationships with parents to ensure the best care for their children, who are ultimately their whole world. I enjoy creating a fun, safe and caring environment for these little ones to grow and always like making memories with arts/craft activities, getting messy and singing/dancing. In my spare time I love living near the beach for walks and watching a lot of movies at the cinema."
Qualification: Level 3 in children's education
---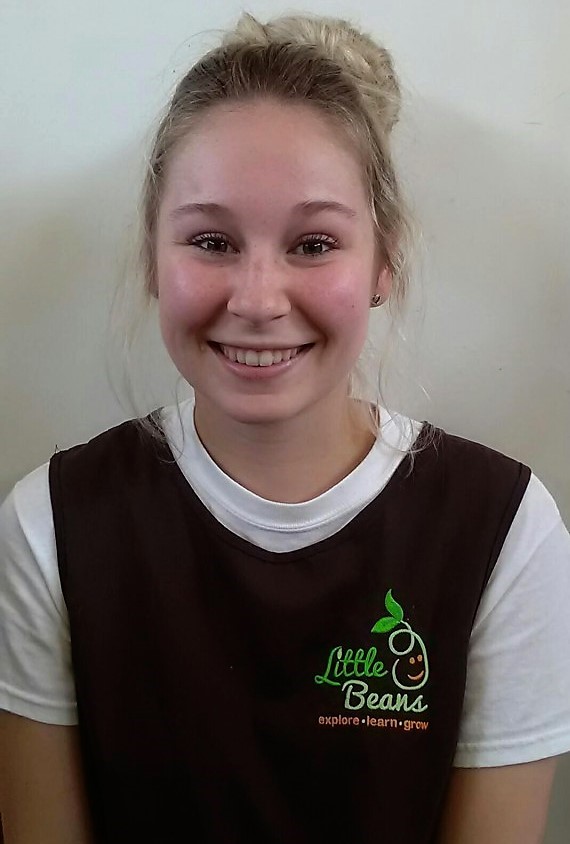 Jess  - Baby Room Leader - maternity cover
"I have over 5 and a half years of experience in childcare and have been at Little Beans for over 3 years. I am passionate about childcare and want to ensure that all children are given the best start and opportunities in life. I enjoy creating stimulating activities to help children strive. I'm very enthusiastic and friendly, and love to get involved in children's activities (messy play especially!) Being able to watch children learn and grow is incredible, and I'm proud to be a part of each of their journeys"
Qualification: Level 3 in children's education
---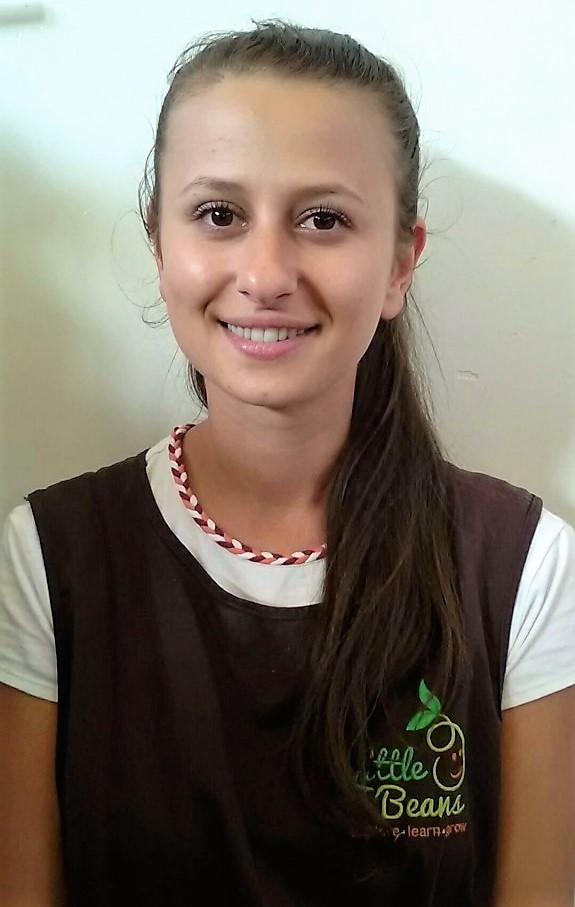 Laura - Baby Room Practitioner (Level 3 Early Years)
"I love children and I am so excited to be around them. I have worked previously with a little boy, and that made me realise that this is my path. I believe that childhood is the most beautiful part of life, and for me, childhood offers many big opportunities in terms of my career. To spend quality time with the children and seeing them grow up is amazing, and that makes me feel good about myself and my role."
Qualification: NVQ level 3 in childcare
---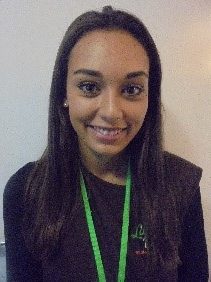 Chanelle - Baby Room Practitioner (Level 2 Early Years working towards Level 3 Early Years)
"I have gained a Level 2 in childcare. I am excited to be part of the Little Beans team and I am gaining more knowlege about child development. I am now studying for my Level 3 quailifation in childcare whilst working here."
Qualification: Level 2 in childcare - Early Years
---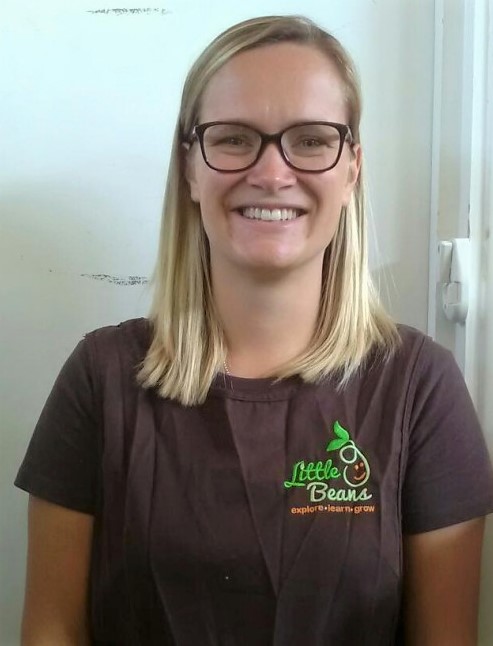 Lisa - Quality Support Leader
"I have worked in childcare now for 12 years and have always had a passion for childcare and providing children with the best start in life. Being a mother of two myself I feel I can bring my knowledge and experience from raising my own two children into the setting and help support my team. I love being creative with the children and providing them with fun, messy and interactive arts and crafts activities. Your child's welfare, health and happiness are paramount and I always hold this in the forefront of my mind when caring for your children, ensuring they are safe and happy at all times.
---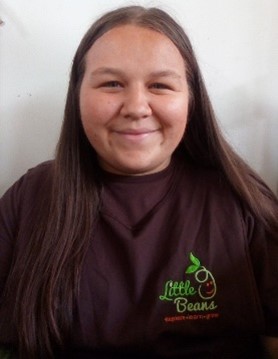 Natasha  - Preschool Apprentice (Working towards Level 2 Early Years) 
"I have a large family with many young children which helped me realise childcare is the path for me. Preschool is such an ploring for children and I really enjoy working with the Little Beans children helping them throughout their nursery and preschool journey."
Qualifications: Working towards Level 2 in children's education - early years
---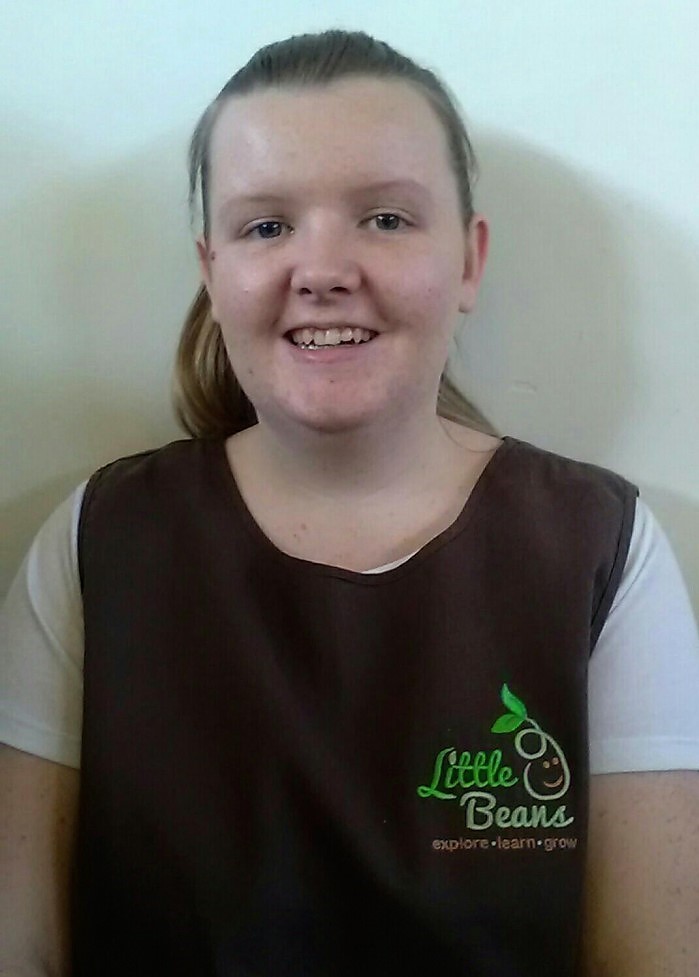 Katie - Preschool Practitioner (Level 2 Early Years)
"I have always had an interest in working with children and have always loved looking after and babysitting my young cousins. I finished school a few years ago and I recently completed my Level 2 in childcare. I am really excited to put what I learnt from my apprenticeship into practice here at Little Beans."
Qualification: NVQ Level 2 in childcare
---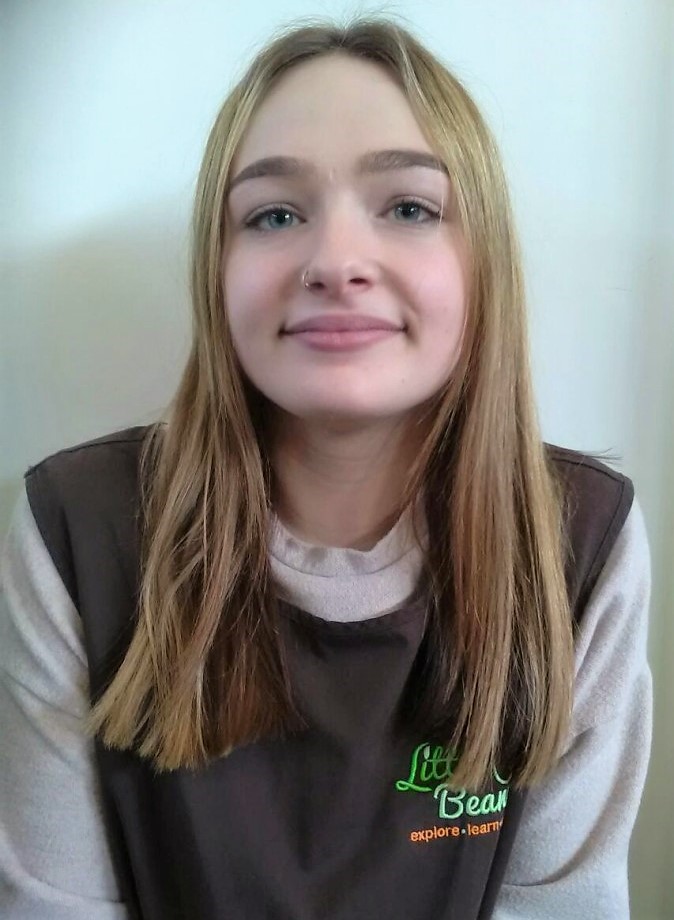 Chanaleah- Pre-school room apprentice (working towards Level 2 Early Years)
"Childhood is a very important time of a person's life, and being able to help a child to learn and grow can be so rewarding! I have a passion to work with children and help them learn in their own way. I couldn't be anymore pleased and excited to work with all of the Little Beans children, creating the best environment for them alongside my colleagues."
Qualification: Working towards Level 2 NVQ in Early Years childcare 
---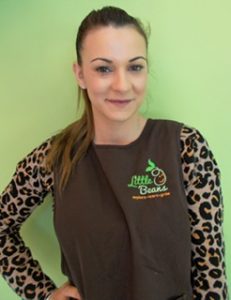 Natalie - Preschool Practitioner (Level 3 Early Years)
"I come from a big family and have always loved being around children. I am a very creative individual and enjoy doing arts and crafts activities. I also very much enjoy exercising. I am currently focusing on my childcare apprenticeship at Little Beans and am looking forward to working towards my NVQ Level 3 qualification."
Qualification: Level 3 in childcare
---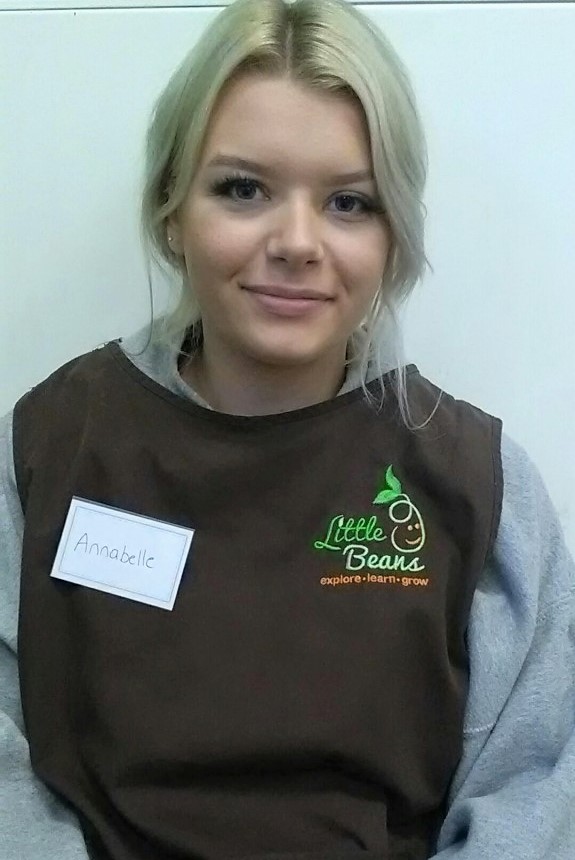 Annabelle - 2 year old's Apprentice 
"I have always had children around me, being the eldest of four. I have always found myself busy entertaining and looking after children. There is never a boring day with children, with each being individually interesting and unique, it is hard to not love being around them. I am studying to complete my level 3 in childcare and I am so excited to work here at Little Beans with an amazing team and great children"
Qualification: Working towards NVQ level 3 in childcare
---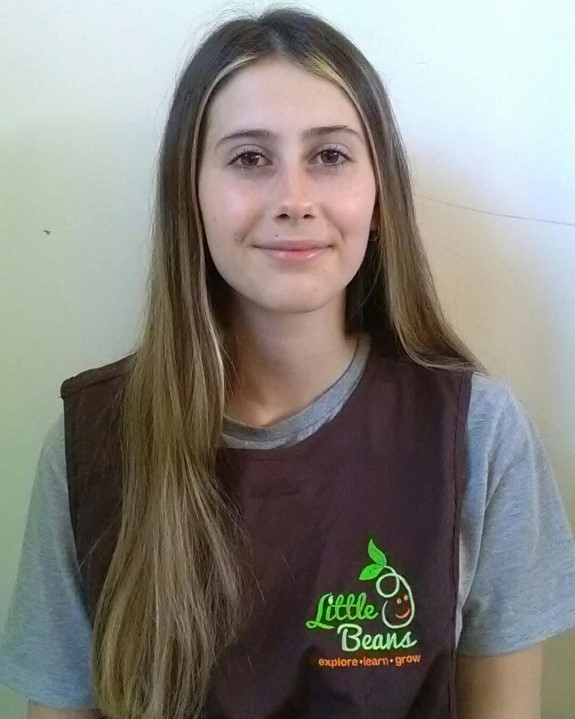 Emily - Baby room Apprentice (working towards Level 2 Early Years)
"From an early age i have wanted to work with children, since always looking after my siblings. i believe a child's first years are particularly important to allow them to learn and show their personalities. Making children laugh and seeing them have fun, always makes me incredibly happy. There is never a dull day working with children and I am looking forward to learning new skills to help increase their knowledge! I am happy to be starting my adventure with Little Beans!"
Qualification: Working towards Level 2 Early years
---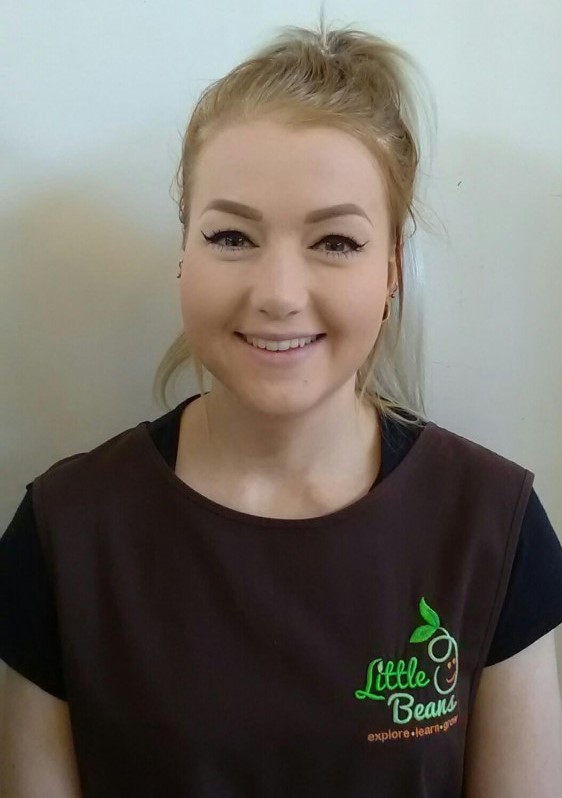 Chloe - Office Administrator
"I have worked in administration roles for the last 5 years including a childcare environment. I have previously completed an apprenticeship in business administration, and gained an NVQ level 2 and 3 in business administration. I am a very bubbly and friendly person and I am super happy to be part of the Little Beans team as office administrator/support."
---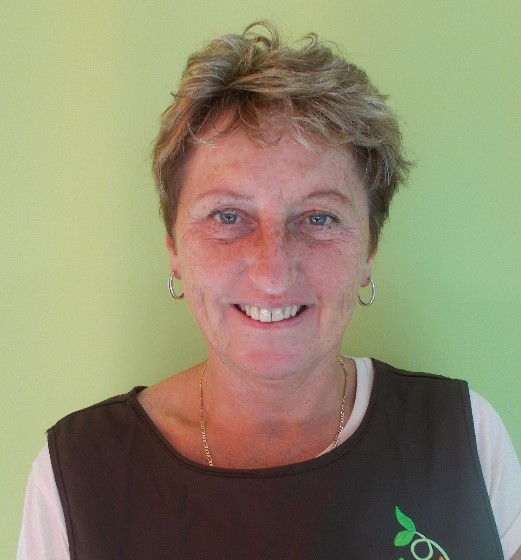 Irene - Office Administrator
"I have worked in Administration roles for the last 23 years and I have joined Little Beans as Office Adminstrator. I love working in this environment with the children. I enjoy spending time with my ever-growing familty - two children and six grandchildren! In my spare time I play netball weekly. I also enjoy eating out and visiting new countries on holidays."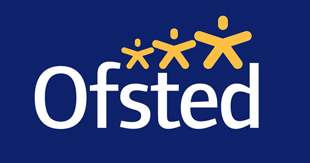 ---
[efb_feed fanpage_url="https://www.facebook.com/littlebeansgarland/" layout="thumbnail)" image_size="thumbnail" type="page)" post_by="DISPLAY_POSTS_FROM(me/others/onlyothers)" show_logo="SHOW_HIDE_PAGE_LOGO(1/0)" show_image="SHOW_HIDE_IMAGES(1/0)" show_like_box="SHOW_HIDE_LIKEBOX(1/0)" links_new_tab="OPEN_LINKS_IN_EXTERNAL_TAB(1/0)" post_number="NUMBER_OF_POST_DISPALAY(10)" post_limit="NUMBER_OF_POST_RETRIEVE(10)" cache_unit="NUMMBER_OF_MINUTES_DAYS(1)" cache_duration="SELECT_CACHE_DURATION(days)"]